Coverage and payouts
SMS payments are the easiest and most accessible small amounts online payment method. Any potential customer possesses a mobile phone, and sending an SMS is easy and well-known to everyone.
There is no way we can hide this – the mobile operators do take a great part of each SMS payment (40%-50%, depending on the country and SMS tariff). But SMS payments are easy, fast and safe for users, and you will also be able to accept online payments from customers who do not have a debit/credit card, or are afraid to use their bank card online. Here's what numbers show: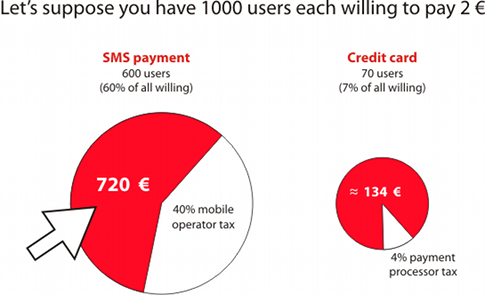 In other words, SMS payments will allow a lot more users to make an actual payment(60% of all willing) and the end result will be e greater profit for you – despite the mobile operators' high fees.
SMS micropayments are most appropriate for paying for website access, buying virtual products and virtual currency for online games. Mobio.bg offers SMS payments for Bulgaria, Russia, Macedonia, Greece, Romania, Belgium,Germany, France, Luxemburg, Spain, Poland, Czech Republic, Slovakia, Switzerland and South Africa. There are no installation or monthly maintenance fees.